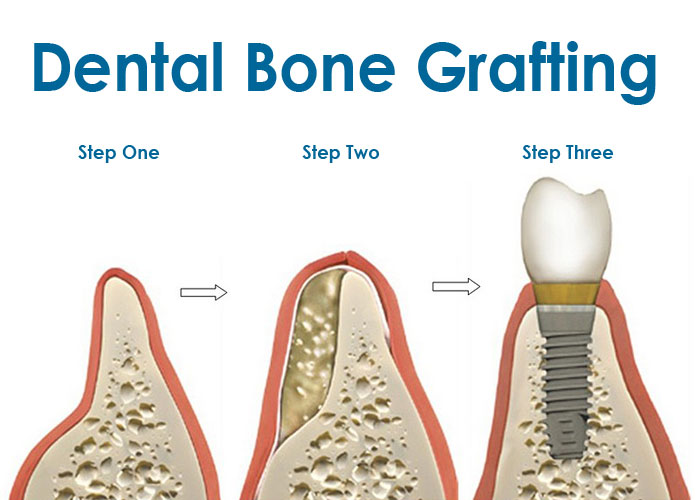 Dental bone grafting is performed to build up the jawbone. In cases where the jaw bone is damaged or receded, bone grafting is performed as a preparation step prior to a dental implant or restoration. These restorations require sufficient jaw bone volume for optimal chances of success.
Jaw bone volume can be insufficient for a number of reasons:
Periodontal (gum) disease and infections – progressively attacked gum tissue will
eventually damage the jaw bone if left untreated. Other infections can also diminish bone.
Tooth extraction – it is estimated that following a tooth extraction, the patient loses 40-60% of the bone surrounding the tooth site within three years.
Injury – blows to the jaw or other dental injuries can cause the jaw to recede. Bone grafting treatment can take several months to complete. It is performed as an outpatient surgery. (no overnight stay)
At Four Seasons Dental Care, Dr. David Huh takes great pride and care in his bone graft procedures. We only use proven and tested materials and methods in our procedures to optimize implant success. Over the years, Dr. David Huh has received extensive training with the ITI group (International Team for Implantology) in all forms of bone grafting. He has performed hundreds of successful grafting procedures ranging from simple bone defects to large sinus lift procedures. If the best procedure for you is one that we do not perform, you can be assured we will refer you to someone that can do the job. We will not compromise quality over profit.
Dr Huh's Training :
Masters Course in GRB and Sinus Grafting Procedures, University of Bern, Switzerland.
Masters Course in Esthetic Implant Dentistry, University of Bern, Switzerland.
Masters Course in Regenerative and Esthetic Periodontal Therapy, University of Bern, Switzerland.
Masters Course on Immediate Implant Placement and Advanced Surgical Techniques.